TICKETBOX6 MOBILE SERVICE
1_ Smart phone & PC reservation service
▶ Optimized UI, UX for smart phone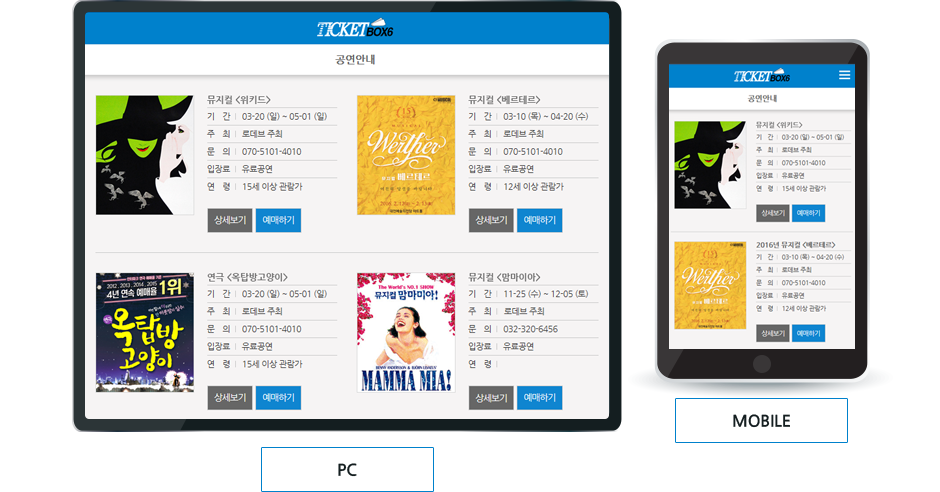 ▶ It can be provided with the same UI, UX to the smart phone and PC
▶ The Responsive Web Technology supports the N screen for all smart devices.
▶ Promote the performance through a easy-to-understand guidance.
▶ Reservation is made easier by minimizing the advance stage.
▶ With the introduction of the Memory DB, it offers a 10 times faster bookings without bottlenecks.
2_ Optimum Discount & Simple Payment System
▶ Provides an optimal discount function and a simple payment system service.
▶ By automatically finding the optimum discount and presenting it to the customer, the customer hassle disappeared.
▶ The reservation became faster and easier with simple payment system.
3_ Mobile ticket & Present a gift
▶ Mobile ticket can be admitted quickly without ticketing.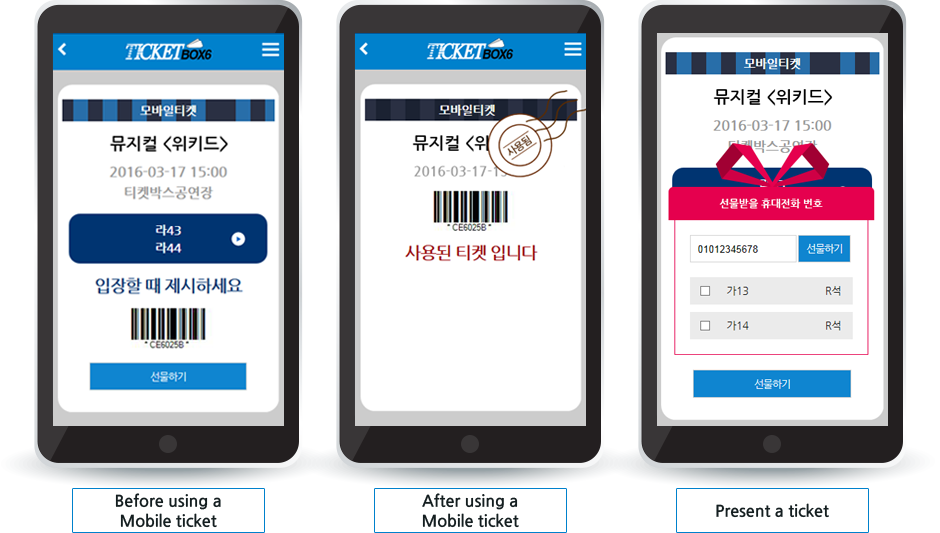 ▶ Ticket issue will disappear due to mobile ticket.
▶ With a mobile ticket gift, a lot of people who are related with customer, can find the theater more conveniently.
4_ SMS Reservation function
▶ Provides the ability to reserve performance with SMS touch.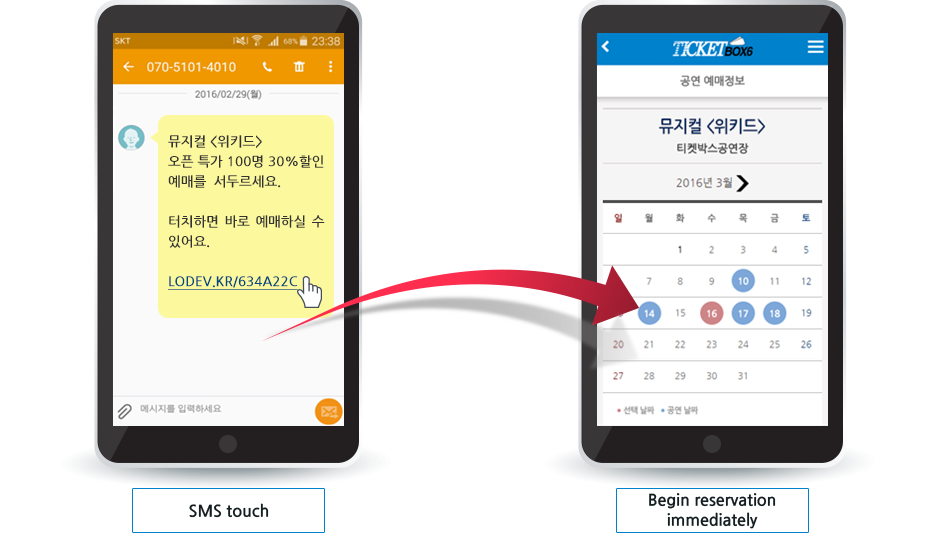 ▶ This is a SMS reservation for non-member audiences who are hesitant to provide personal information.
▶ When customer touch the sent SMS, the reservation is made immediately.

UTILIZE TICKETBOX6
1_ Please use the TICKETBOX6 as follows.
▶ TICKETBOX6 is a customized smart ticketing solution.
Acquire customers through SMS promotion
The Audience doesn't react to regular promotional SMS.
Send promotional SMS such as early bird special, prize, etc. to customers who have been extracted from the campaign tool.
Touch the received SMS to start buying immediately without any hassle.
Utilize as customer analysis
Using the performance attributes and audience data analyzed in CEM, you can identify the profiles, status, statistics, and trends of theater members. Utilize a precise audience analysis for how and when to respond to any performance.

*CEM(Customer Experience Management) is the process of strategically managing the customer's overall experience.
Simple payment system makes it easier
TICKETBOX6 is designed with a smart phone.
It simplifies the stage of the reservation for the annoying audience who irritated the complexity, simple payment system, SMS reservation, non-member reservation, automatic optimized discount were introduced. Present the convenience to your members.
Maximize purchase by presenting
Using mobile tickets and presenting tickets, it is possible to bring a lot of audience such as friends, lovers, parents, etc. of the members to the theater.
Utilize TICKETBOX6 as a powerful marketing tool.
Question
Tel: +82-70-5101-4010 / E-maill: manager@lodev.kr
Ticketbox view promotional video